Service Details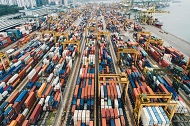 Expedia logistics has effective transhipment logistics facilities. We transport your goods and items quickly and reliably and combine various modes of transport for this purpose – e.g. long-distance or local vehicles, sea-going ships, inland waterway vessels, rail transport or air freight.
Just as passengers change from one mode of transport to another, goods have to switch from one means of transport to another within almost every transport chain.
This is known as transhipment in the world of logistics – regardless of whether the change involves movement from one truck to another – for example, from a long-distance to a local vehicle – or whether different means of transport are linked together, like maritime shipping, inland waterway vessels, trucks, railways and, not least, aircraft.
Infrastructure and superstructure
Continual investments in the infrastructure and superstructure at our business sites are also essential so that we can handle consignments efficiently; they are a testimony to our long-term commitment as a family-managed company and improve the general conditions for shipping operations. Based on our excellent knowledge of different sectors, we are able to develop individual services for different industrial branches and their needs.